The
Ticket

to High School

GoFan is the leading digital ticketing and event management system for schools and proudly supports over 500,000 events each year. The official partner of 40 state associations, GoFan elevates the event experience for schools and fans in athletics, performing arts, dances, camps, and other activities.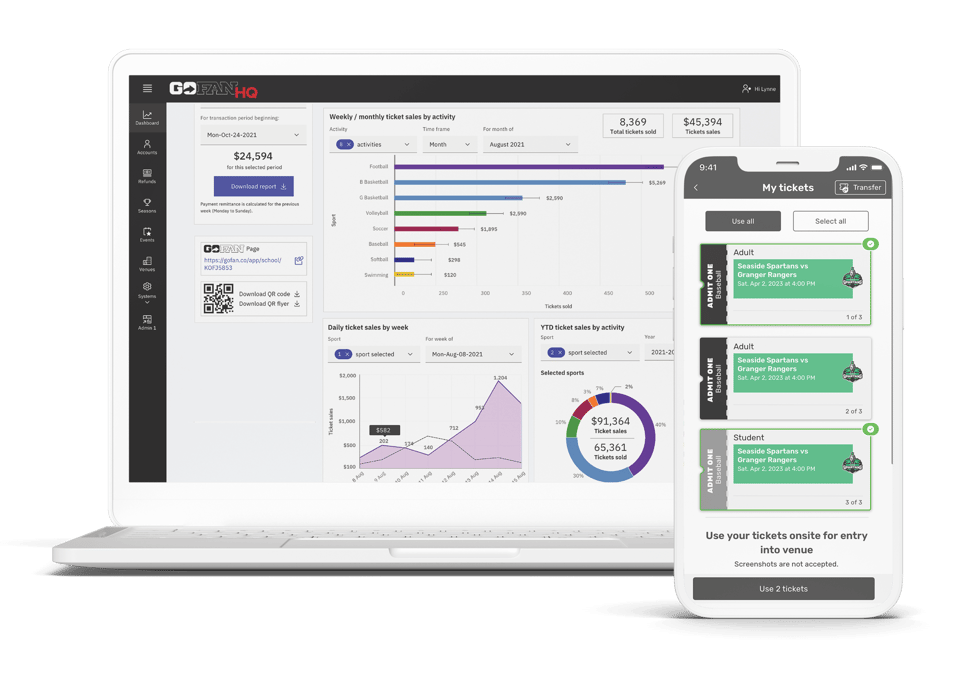 Elevate the event experience
With GoFan, schools can create, promote, manage, and reconcile all events in one place. GoFan empowers thousands of schools to save time, increase revenue, and create meaningful experiences for their communities. Millions of fans nationwide discover and enjoy their favorite events with GoFan.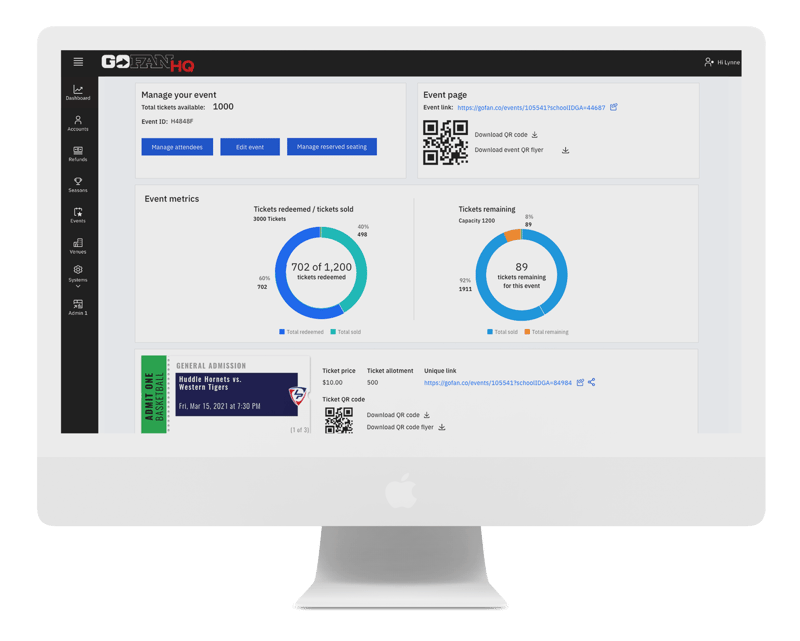 How it Works
GoFan HQ is your event management headquarters to create and manage every event across campus. Save time scheduling, ticketing, reporting, and communicating to support your staff and delight your fans.
Easy Event Setup
Whether you want to create a single event at a time or multiple seasons at once, you can add new events quickly and seamlessly in GoFan HQ. In just 4 minutes and 4 easy steps, you can have your event live and on sale!
Data-driven Insights
Track ticket sales on demand to monitor event performance. Take action with data-driven insights to increase attendance, understand staffing needs, and be better prepared for your events.
Transparent Reporting
For post-event reporting, school bookkeepers want quick and easy access to all event details. With the Financial Hub, you can easily search and find financial data, run reports, and download payment statements to meet accounting and audit requirements.
Easy Purchase and Redemption
Make it simple for your fans to buy tickets and attend your events. Post your events and send your fans direct links to buy online. Onsite card readers are also available to provide other payment options. Fans show their phones to redeem tickets quickly and securely.
Share Tickets with Family & Friends
Ticketholders can easily share tickets with friends or family with just a text or email. No more lost tickets, pass backs, and complicated cash management procedures.